Encompassed by Orange County and filled with an exceptional collection of amenities, Irvine is a master-planned city located in southern California. Situated about 40 miles south of Los Angeles and 15 miles south of Anaheim, traveling to and from regional hotspots is relatively easy for area residents. Irvine is known for its excellent schools, stunning community parks, welcoming environment, and for its close proximity to the massive Limestone Canyon Regional Park.
The City of Irvine has a total population of 309,014 residents, which is equal to about 4,709.8 people per square mile. Exploring the area's demographics, the median resident age is 34.2, which is significantly less than the surrounding Los Angeles-Long Beach-Anaheim, CA metro area. Additionally, the median household income is $105,774, which is also significantly higher than the immediate region.
Planning your upcoming relocation to Irvine? Searching for the best neighborhoods in Irvine is the best way to ensure you find the right place to live. Peruse our expertly curated picks for the top Irvine neighborhoods before your move.
Turtle Rock
— Affluent Residential Irvine Neighborhood 
Nestled on the eastern side of the University of California Irvine campus and encompassing Concordia University, Turtle Rock definitely isn't what you'd think of as a typical college town. Affluent, suburban, and packed with prime amenities, Turtle Rock is one of the most idyllic neighborhoods in Irvine. Located close to restaurants, stores, scenic outdoor spaces, golf clubs, trails, and more, accessing anything needed is effortless when residing in this centrally-located community.  
Residents of Turtle Rock enjoy living in a quiet residential neighborhood that is seldom traveled by anyone other than residents. Homes range in size from modest to ultra spacious — all featuring prime amenities and style. Around the neighborhood, the area is brimming with outdoor spaces, including parks, sports courts, country clubs, and trails. Some of the most frequented places by Turtle Rock locals include the Strawberry Farms Golf Club, Shady Canyon Golf Club, Turtle Rock Community Park, and the Turtle Rock Preserve and Trail. Across these and other outdoor locales, residents can play tennis and golf, take their pup to the dog park, go swimming, and much more.
Aside from these highly desirable features, there's even more to love about Turtle Rock. In this neighborhood, residents have access to top-tier schools, including Bonita Canyon Elementary School and Turtle Rock Elementary School.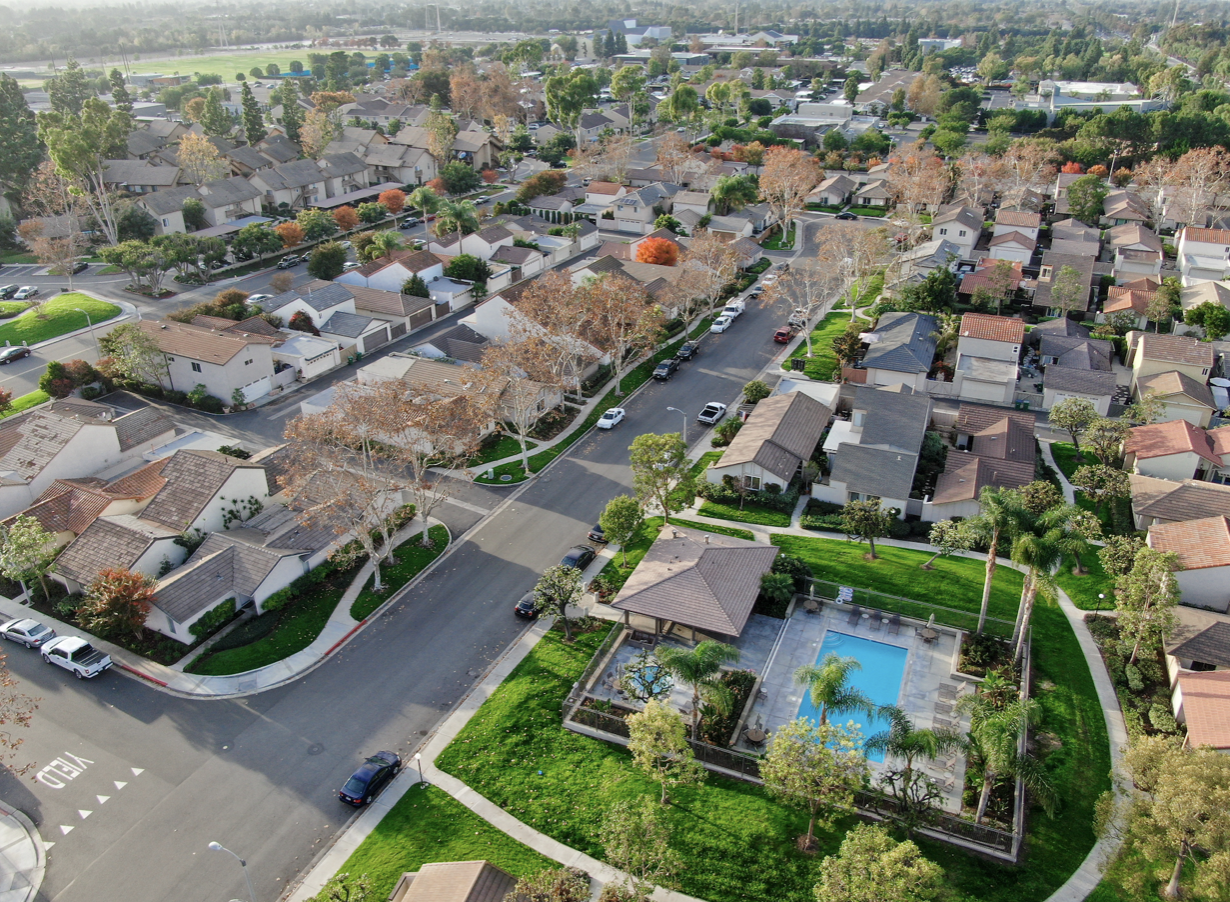 Turtle Ridge
— Private, Ultra Safe Gated Community in Irvine
Tucked along California State Route 73, bordering San Joaquin Hills and Turtle Rock, Turtle Ridge is an exclusive gated neighborhood in Irvine. This community boasts a wide array of its own amenities and conveniences. Nearby, locals have quick and easy access to places such as Las Lomas Community Park & Community Center, Turtle Ridge Trailhead, and multiple country clubs. This Irvine community is also one of the closest to the oceanfront.
Most notably, Turtle Ridge is one of the safest places to live in Irvine. Total crime is 73% lower than the national average, while violent crime is 91% lower.
Woodbridge
— Family-Friendly, Irvine Neighborhood With Great Parks
Situated just off of the 405 near the center of town, bordering other top neighborhoods such as University Park and Oak Creek, Woodbridge is a fantastic place to reside. Upscale yet approachable, this neighborhood is great for families, students, working professionals, and beyond. It is a great community for a wide range of people because it includes almost every imaginable convenience and amenity.
In addition to its highly accessible location — making it effortless to travel to and from major nearby cities — everything needed to live a comfortable, happy life can be found in town. This includes a long list of community parks, great schools, outdoor recreation facilities, a lake, shopping complexes, and select restaurants. 
Those who are new to the Woodbridge area — one of the best neighborhoods in Irvine — will definitely want to explore its many parks and outdoor spaces. Favorites include Rose Garden (a lovely community garden overflowing with roses), North Lake Park (which is located on North Lake), Cobblestone Park, and Peppergrass Park. For residents living in select parks of the neighborhood, the North Lake Beach Club is a wonderful, resident-exclusive place to cool off during the hottest months of the year.
View this post on Instagram
Oak Creek
— Conveniently Located, Resort-Like Oasis for Golf Enthusiasts 
Centered around the Oak Creek Golf Club and Driving Range, Oak Creek is among the best Irvine neighborhoods. Compact in size yet brimming with amenities, this community has ample to offer its residents.
You can find Oak Creek nestled between the 405 and the 5, bordering other top Irvine neighborhoods such as Woodbridge and University Park. Because of its close proximity to major interstates, traveling throughout the area takes no time at all. Irvine's city center, Santa Ana, and all surrounding locales are quick to reach from this community. Looking at residential areas, Oak Creek comprises townhomes, apartments, and single-family homes, making it easy to find a property that fits your needs. In addition, Oak Creek is an Irvine neighborhood with Google Fiber blazing fast internet speeds!
The majority of the Oak Creek community is occupied by the Oak Creek Golf Club and Driving Range. Situated just off Irvine Center Drive, this expansive course and club boast 18 holes, a highly-rated restaurant, practice facilities, and a pro shop for all your apparel and equipment needs. Steps away, locals can take their four-legged friends to the Irvine Central Bark park for hours of off-leash fun. This three-acre dog park is separated into two separate sections — one for small dogs and one for larger pups.
For those who are looking into higher education, Irvine Valley College can also be found in Oak Creek.
University Town Center
— Walkable and Peaceful Student-Friendly Neighborhood 
Bordering the University of California Irvine campus, University Town Center is a vibrant, all-encompassing neighborhood. Set just far enough away from the University to retain its own personality and character, this is a great place for students and non-students to reside.
Locals have access to some of the area's best shopping, as well as a sprawling and scenic outdoor space — the William R. Mason Regional Park. Need to run errands? Doing so is made quick and easy for residents of the University Town Center thanks to the University Center shopping complex. This complex encompasses popular retailers such as Trader Joe's and Target, as well as a myriad of restaurants and even a Regal movie theater. Down the road, Campus Plaza features even more shopping and dining options, including Albertsons.
Want to get out in nature for the morning or afternoon? Spanning over 300 acres, the William R. Mason Regional Park offers spots for picnics, hiking, biking, volleyball, and more.
Westpark
— High-End, Serene Suburban Community in Irvine
Boasting many of the highest-priced homes in the city, excellent parks, and safe residential areas, Westpark is one of the best places to live in Irvine. Located near the city's center, this neighborhood borders other phenomenal communities, including Woodbridge and University Park. On top of these perks, locals appreciate being located minutes from top retailers, restaurants, schools, parks, and other essential businesses. This includes Bill Barber Memorial Park, Santa Clara Park, Boomers Irvine amusement park, Fire Loop Virtual Reality, San Carlo Park, and William R. Mason Regional Park.
One of the most noteworthy aspects of living in Westpark is its low crime rates. Overall, crime in the Westpark neighborhood is 32% below the national average. Violent crime rates are an impressive 89% lower than the national average, making this an exceptionally safe community. Westpark is another Irvine neighborhood with Google Fiber for fast internet speed.
In the center of town, Westpark Plaza and Crossroads are lively shopping complexes with a wide selection of stores and restaurants, including Target, Sprouts Farmers Market, Southern Spice, and Piadina.
University Park
— Irvine Community Within a Master-Planned City
Last but not least, University Park is a safe, peaceful, and high-end neighborhood in Irvine. Situated along the 405, bordering Turtle Rock and University Town Center, this community is almost exclusively residential. With a median home price of $1.21 million, University Park has some of the most expensive homes in Irvine. The area is tree-lined and boasts properties that span styles and time periods.
Because of its safe environment, numerous parks, and highly-rated middle school (Rancho San Joaquin Middle School), families are especially drawn to University Park. People of all ages who want to stay active outdoors can do so at places such as the Adventure Playground, University Community Park Tennis Courts, Toddler Park, and Dave Robins Park. The neighborhood also borders Turtle Rock Preserve and Trail and William R. Mason Regional Park, which collectively spans hundreds of acres. Each park offers spaces for bike riding, hiking, golf, volleyball, picnics, wildlife observation, and much more.
Best Irvine Neighborhoods Map
Want to see where each of the best Irvine neighborhoods are located? Explore this interactive Irvine neighborhoods map:
Equipped with over 50 years of experience, our team at Daly Movers knows exactly how to provide top-tier service to our clients. Having served 65,000+ customers, our trustworthy pros have seen and done it all. If you're moving to or within the city, call our dependable Irvine movers for a free estimate today to get started with your stress-free move.