A planned community, planned city, planned town, or planned settlement is any community that was carefully planned from its inception and is typically constructed on previously undeveloped land. That's important to understand because Mission Viejo is known for being one of the largest master-planned communities ever built under a single project. A short eight mile drive to Laguna Beach, there are few communities in the entire state of California that are more desirable to live in, as evidenced by the city motto "Make Living Your Mission."
Located just 48 miles south of Los Angeles and 74 miles north of San Diego, the planned community of Mission Viejo, CA was built with suburbia growth in mind. Located between the two cities, there is no shortage of jobs as many businesses understand Mission Viejo as a nice bridge between the two cities; it's the perfect location for satellite branches, warehouses, and relay points. With wonderful weather year-round, ample fresh water supply from the local Lake Mission Viejo, and close proximity to both mountains and the beach, the population will continue to blossom for the next decade plus.
Wondering what it's like living in Mission Viejo California and if it's a good place to live if you have children? Consider that many recent professional athletes grew up in the area, including Olympic medalist swimmer Kaitlin Sandeno, long time professional soccer player Jordan Harvey, and former Major League Baseball All-Star Allen Craig.
Where Is Mission Viejo?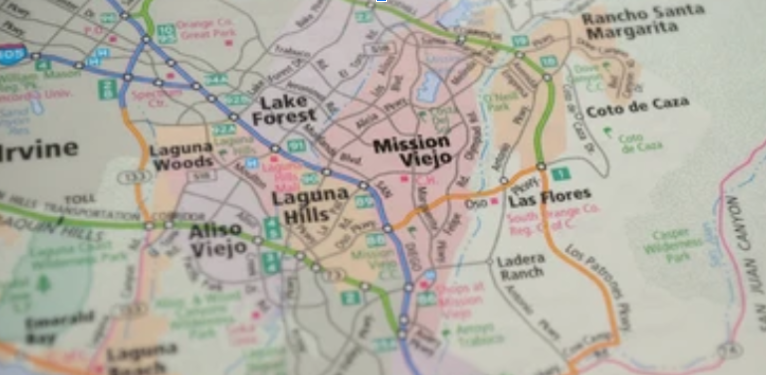 Mission Viejo is in Orange County, California and is bordered by Laguna Hills and Laguna Niguel on the west, Ladera Ranch and Rancho Santa Margarita on the east, Lake Forest to the northwest, and San Juan Capistrano on the south. Mission Viejo is 13 miles from Irvine, California and it takes about 18 minutes to drive.
The City of Mission Viejo provides a free MV shuttle from Laguna Niguel/Mission Viejo Metrolink train station to Lake Mission Viejo, making many stops in between. It's a quick and convenient, not to mention no cost way to visit The Shops at Mission Viejo, Mission Hospital, and Saddleback College, among others.
If your stop isn't part of the MV shuttle route, try the OCTA bus that travels throughout the state of California.
Mission Viejo Population & Demographics
A city with a population slightly over average age, the residents of Mission Viejo have a median age of 47. The beautiful weather all year around is inviting for retirees and there are plenty of middle aged working professionals. The population of Mission Viejo, CA is 92,449 with a population density of 5,235 people per square mile, according to the 2021 ACS Census. 
69.9% White (61.5% non-Hispanic), 18.9% Hispanic, 14.1% Asian, 1.1% Black or African American, and 9.8% two or more races

47% women, 53% men

93% are high school graduates

51.6% have bachelor's degrees or higher

$121,299 median household income
Is Mission Viejo a safe place to live? The City of Mission Viejo contracts with the Orange County Sheriff's Department for Police Services. With approximately 4,000 employees committed to serving the public, the OC Sheriff's Department is responsible for the protection of citizens, enforcement of laws, and crime prevention. The City of Mission Viejo enjoys the reputation of being not only one of the safest cities in Orange County but also one of the safest communities in the entire nation for populations under 100,000. The total crime rate per 100,000 people is 978 which is 58.3% lower than the average crime rate of 2,346  per 100,000 for the country.
Cost of Living in Mission Viejo
The cost of living in Mission Viejo, CA is unfortunately not on the low side, but that's why the crime rate is almost nonexistent. With the median household income just under $121,299 and the median home price at $937,500, most people find the area to be on the wealthier side and a bit on the expensive side for the cost of living.
Typical Mission Viejo Living Expenses
The following common living expenses were provided by numbeo.com:
Gallon of gas: $5.69

Gallon of milk: $3.51

Meal for 2 at mid-range restaurant: $75

Average cost of utilities in Mission Viejo (electric, heat, a/c, water, garbage): $290 
If you're looking to buy a home, check this updated list of Mission Viejo, CA homes for sale. Prefer to rent? The average rent in Mission Viejo is $2,796 (according to Rentcafe.com), for an 857 square foot apartment.
Mission Viejo Neighborhoods | Where to Live in Mission Viejo
Crime rates are low, schools are safe and grade well, and ample employment opportunities  exist. Since it's a planned city, there is near-perfect public transportation and the public works department is on top of its game! Still, we broke down some of the neighborhoods to give an idea of where you  may prefer to live in Mission Viejo based on interests, age, and culture.
Canyon Estates
- High End Housing Neighborhood for Upper-Class
Wealthier working professionals, some celebrities, some professional athletes, and a number of retired millionaires live in Canyon Estates. The average cost of a home is well above a million dollars while rentals cost over  $5,000 a month. The only crime to speak of is caused by teenaged children and occasional domestic disputes. Since nearly all of the buildings were built between 1970 and 1999, many of the houses have a rustic feel but are in pristine shape, and many have wonderful views.
Most of the homes are newer and  there is plenty of access to Highway Route 5, which will take you to  Los Angeles or  San Diego. Many people in this particular community are LA commuters and aren't as wealthy. Hillcrest Village is ideal for younger families looking to buy their first home or retirees on a budget.
City Center
- More Apartments than Houses
While City Center dwellers can find the occasional home for sale for just over a million dollars, most people live in apartment buildings and rely on public transportation or their own two feet to get them around. City Center is perfect for young, active people living in Mission Viejo and it boasts  plenty of businesses, supermarkets, and recreational activities. 
Seville
- Perfect for Middle Class American Families
Seville Park is the perfect spot to raise a family. This neighborhood is close to all the main roads, there are a  couple of ideal schools to choose from, and there is no shortage of outdoor activity for kids, making the Seville neighborhood ideal for a family to live and flourish in. We wouldn't recommend the area for retirees or for young people looking to enjoy the nightlife or dating scene. Seville is almost exclusively composed of families of all ethnicities, sizes, and children in various age ranges. The average home is about $900,000.
Mission Viejo Weather & Climate
Arguably the most attractive part of living in Mission Viejo is the weather. You get to enjoy moderate temperatures all year around thanks to the Koppen classification of being a borderline semi-arid/Mediterranean climate. There is no harsh winter and the hottest summer days are always bearable. With just enough rain to keep the grass green, the lakes full, and the flora thriving, you can safely plan to have barbecues and outdoor fun during any month of the year! The best time to visit Mission Viejo is between May and October.
In the dead of summer, the humidity is modest while the temperatures hover at 82 degrees as a high and 64 as a low. While you can experience 90+ degree days,  they're not frequent. In the heart of winter, enjoy average highs of 66 degrees and lows of 47, right around Christmas time. You'll never have to shovel snow, and your heat bill won't be unreasonably high!  Make sure you have sunscreen because the cloud cover remains very low all year long. As for rain, November to April is when you see most of it, and it only peaks at about 20% of all days, but when it rains, it really rains. In the summertime, you may go two months straight without seeing rain.
Things to Do in Mission Viejo
Everyone from single adults to families with children to sports fans will find something to do in Mission Viejo. Some of the best things to do in Mission Viejo include the many street festivals, art galleries, parks, concerts, and more. The Parks and Rec department maintains several parks and trails for the community to enjoy. Residents and visitors to the area also enjoy convenient shopping at The Shops at Mission Viejo and Union Market Mission Viejo.
Arroyo Trabuco Golf Club is a public-access daily fee facility featuring an 18-hole championship-length golf course designed by PGA Tour professional Tom Lehman and well-respected local golf course architect Casey O'Callaghan. Attached is O'Neill's Bar & Grill, which is award-winning Californian Ranch Cuisine. 
26772 Avery Pkwy, Mission Viejo, CA 92692 (949) 305-5100
Lake Mission Viejo was designed to be very friendly for children and adults alike. With facilities at the park, walking trails, boating, fishing, playgrounds, and even a swimming area, the lake draws in all ages from the community.
28051 Lanzarote, Mission Viejo, CA 92692 (949) 770-1313
Who doesn't enjoy a good movie from time to time? The theater is massive, allowing for almost 20 different movies to be playing simultaneously. The food selection is second to none and the chairs are comfortable recliners.
27741 Crown Valley Pkwy Unit 301, Mission Viejo, CA 92691 (844) 462-7342
Additional Attractions in Mission Viejo, CA
The Mission Viejo Parks and Recreation Department has an app to help you stay in the loop regarding events, shopping, and recreational opportunities in the city.
Mission Viejo Restaurants
Craving sushi? Chicago-style pizza? Classic bar grub? Mission Viejo has it all!
Delizie Ristorante & Bar

. Fine dining with an ever changing seasonal menu that offers catering for business parties, weddings, and birthdays.

Delizie Ristorante & Bar 25380 Marguerite Pkwy, Mission Viejo, CA 92692

(949) 855-6866.

Piccolino Ristorante

. Vegan-friendly restaurant with an up-scale atmosphere. Best Italian restaurant in Orange County and offers pizza takeout for families looking for something quick and easy.

Piccolino Ristorante 28719 Los Alisos Blvd, Mission Viejo, CA 92692

(949) 380-7261.

Dublin 4

. Higher-end Irish Pub is known for buying and serving locally sourced fish. Open seven days and nights a week, it offers its guests a continuous rotation of local draught beers, a multitude of bottles of craft beers as well as an extensive selection of the finest cocktails, whiskeys, spirits, liqueurs, and wines whilst not forgetting our authentic and signature Irish coffee.

Dublin 4 - 26342 Oso Pkwy, Mission Viejo, CA 92691

(949)582-0026.
Jobs in Mission Viejo
Mission Viejo's economy employs just under 49,000 people with the largest industries being professional, scientific, technical services, health care, social assistance, and manufacturing.
The largest employers located right in Mission Viejo include:
The city is also home to several well-known technology companies and Fortune 500 companies, including Microsoft! The average salary is $121,299 and it's growing at a rate of 2.38% per year. The highest paying industries in the city include utilities with an average salary of $130,570, management and companies with an average salary of $96,639, and public administration with salaries averaging $92,279.
Many residents work part-time remote for companies located or based out of LA and/or San Diego. 
Mission Viejo Schools
Kids living in Mission Viejo, CA, attend the Capistrano Unified School District. All of the schools rank well above average nationally in safety and education. There is the Oxford Preparatory Academy as well as South Orange County. The Academy is regularly selected to receive the California Pivotal Practice (CAPP) Award as it did in 2022.
The Mission Viejo public library is home to a slew of community events. Locals check the calendar regularly to see what new programs can be viewed or joined at the library.
Mission Viejo Statistics & Information
County

:  Orange County

Mission Viejo Area:

18.03 square miles

Mission Viejo Zip Codes:

92653, 92690, 62691, 92692

Mission Viejo Area Code:

949

Mission Viejo Elevation:

410 feet above sea level

Mission Viejo Time Zone: Pacific Standard Time (PST)
Mission Viejo Map
Discover more fun things to do, amazing restaurants, and amenities with this map of Mission Viejo:
When you're ready to move to Mission Viejo, toss out your winter clothes! You won't need them unless you plan to head to the mountains for skiing. Call Daly Movers for a quote from the best Mission Viejo movers in the city.