The incredibly lively and welcoming city of Anaheim boasts a charming downtown, beautiful weather, numerous diverse cuisines, and the world-famous destination known as Disneyland Park. That's right – in addition to being a culturally diverse suburb of Los Angeles, the family-friendly city of Anaheim is quite literally home to one of the most magical places in the world. As California's tenth most populous city, Anaheim residents living here further get to enjoy the city's recreational areas, remarkable shopping areas, farmers markets, fun concerts, pro sports teams at the Anaheim Convention Center, and so much more.
If you're thinking about moving to Anaheim, it's good to have an idea of how much the costs will be prior to getting started. So, is Anaheim an expensive place to live? Despite the ideal location and acclaimed attractions, the cost of living in Anaheim isn't too far off from the state average and comes close to many other California cities. This means that if you're already a state resident, the cost of living here won't be a surprise at all.
Anaheim Cost of Living Index
The average cost of living heavily depends on what town, city, and neighborhood you reside in. Likewise, an individual's unique circumstances go into the bills they receive. This includes their lifestyle choices, the county they live in, and how big their household is. The cost of living index shouldn't be the key factor in what you should expect your expenses to be. However, it is a great place to start.
Exactly how much is the cost of living in Anaheim? Well, Anaheim is relatively affordable for someone already accustomed to California prices. The Cost of Living Index (COLI) is based on the cost of living compared to the U.S. average, which is set at 100. The Anaheim-Santa Ana-Irvine CA Metro Div. has a cost of living index of 153.9, which means it's 53.9% more expensive in Anaheim than in the rest of the U.S. Likewise, the Anaheim COLI is only 3.9% higher than the state of California. The Anaheim cost of living is 40.2% lower than San Francisco, .7% higher than Boston, 4.6% higher than Los Angeles, and 30.6% higher than Chicago.
Take note that Anaheim's higher cost of living is primarily caused by its housing and transportation prices. Considering this, all the other price categories are very close to the national average. Nonetheless, there are many affordable areas within Anaheim's borders.
Anaheim consumer price index
Below is the most recent Consumer Price Index for Anaheim, California. The data covers the entire area of Los Angeles-Long Beach-Anaheim, CA. The area saw a 0.1% increase in two months and a 3.7% increase year-over-year. The CPI for energy over the last recorded year decreased by 7.6%, whereas food saw a 6.4% increase since last year.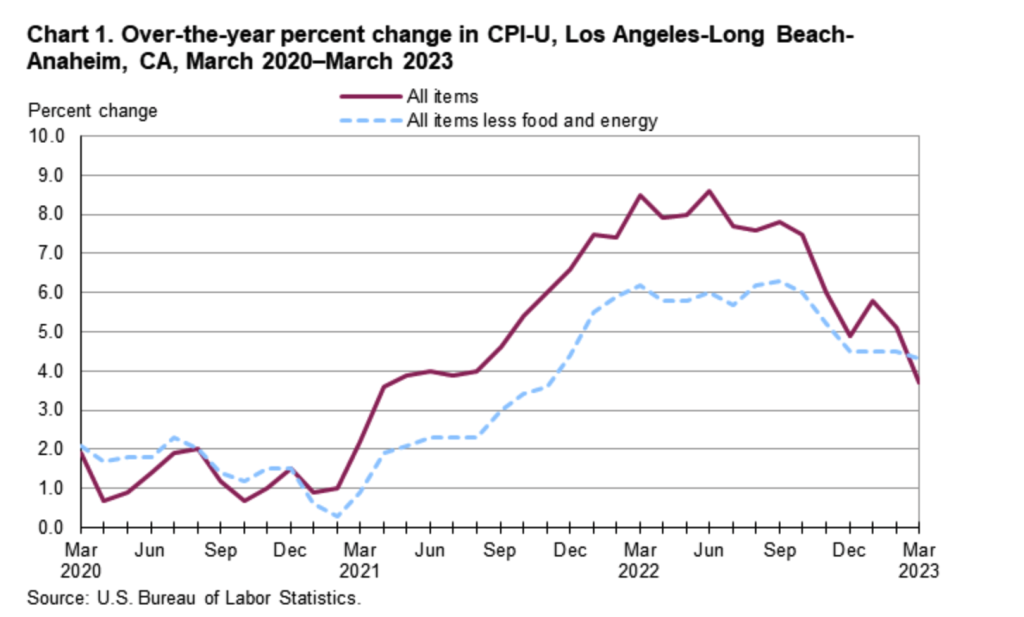 Based on the survey, the area surrounding Anaheim experienced a jump between 2021 and 2023. This was reportedly due to higher home and gasoline prices. This is a common occurrence for many U.S cities, which could be a result of global events such as Russia's invasion of Ukraine.
BLS consumer expenditure survey in Anaheim
The Consumer Expenditure Survey provides data based on income, expenses, and the consumer's characteristics. In the Los Angeles-Long Beach-Anaheim, CA area, the average household spent $68,814 per year based on the most recent analytics from 2020-2021. This is 6.7% more than the national average. Expenditures for housing in Anaheim were 3.7% higher than the U.S. average.
Here's a percentage breakdown of where and how much income the average household spends:
Housing: 38%
Transportation: 16.3%
Food: 12.7%
Personal insurance and pensions: 11.6%
Healthcare: 6.5%
Entertainment: 4.3%
Cash contributions: 2.2%
Apparel and services: 2.6%
Family budget calculator for Anaheim California – Is Anaheim affordable?
Curious how much you need to earn to live the most comfortably in Anaheim? According to the Economic Policy Institute, a family of four living in Anaheim needs to make $114,841 a year to live comfortably.
If you consider there are two adults and two children living in the household, below is what you can expect to spend in a month:
Housing: $2,331
Food: $879
Child Care: $1,446
Transportation: $1,323
Health Care: $1,083
Other Necessities: $1,163
Taxes: $1,345
Cost of Household Items, Utilities, Gas, & Groceries in Anaheim
Before you embark on your journey to Anaheim, take a look below at the list of median prices you can expect to pay regarding everyday items and expenses:
Anaheim average grocery costs
Here are a few of Anaheim's average food and grocery costs:
Steak (ribeye, 1 pound): $12.66
Milk (whole, ½ gallon): $2.30
Eggs (1 dozen, grade A): $3.00
Potatoes (5 lb bag): $2.99
Bread (wheat, 1 loaf): $3.41
Beer (Heineken 6-pack): $9.93
Bottle of wine: $6.51
McDonald's burger (¼ pounder): $5.29
A few additional common expenses include:
Movie ticket (1st run): $14.78
Doctor's visit: $95.00
Average cost of monthly bills in Anaheim
According to COLI and Numbeo, here's what you can expect regarding the monthly bills in Anaheim:
Average cell phone bill: $174.14
Cable/satellite TV, high-speed internet, and home phone: $68.25
Average monthly cost of Anaheim utilities: $152.24
The fastest and most convenient ways to get around Anaheim are by car. Regarding public transportation, Anaheim is served by the Orange County Transportation Authority (OCTA), which operates bus and train systems. A variety of tickets, such as monthly passes are made available.
A monthly fare pass costs $69 ($22.25 for seniors and disabled). The cost of a regular cash fare costs $2.00. If driving your own car is more up your alley, the average price of gasoline in Anaheim and other West Coast areas is $4.087, according to the US Energy Information Administration (the national average is $3.765).
Anaheim Real Estate Market
View this post on Instagram
Regarding real estate trends in Anaheim, the city is experiencing low inventory, which has caused a decline in home prices. Partly due to high mortgage rates, this decline is expected to continue for several coming months.
Anaheim is home to a somewhat competitive real estate market. According to the Census Reporter, 46.5% of residents in Anaheim own their own homes. Based on Redfin's data, homes here sell in an average of 38 days once released on the market. If you're contemplating buying a home in Anaheim, the median home price in Anaheim is $802,500, whereas the state median sits at $743,200. The price per square foot is $511, and 43.2% of the homes in Anaheim sell for above the list price.
If you'd like to gain more information about the area's current real estate market trends, you can use ATTOMS's Rental Affordability Report.
If you're unsure whether or not you should buy or sell, the Price-to-Rent ratio should help you out. It works like this:
You are purchasing a home for $450,00
The median annual rent costs $23,899
Divide 450,000 by 23,899. This leaves a rounded ratio of 1:19
Buying is the best option if the ratio falls between 1 to 15, whereas renting is the way to go if it sits between 16 to 20. Anything over 21 indicates that renting is a must.
Anaheim is home to several safe and low-cost areas and neighborhoods. A few of the most affordable neighborhoods in Anaheim include Northwest Anaheim, The Colony, and Southwest Anaheim.
Rental Market - Average Rent in Anaheim California
View this post on Instagram
The average apartment rent in Anaheim is $2,307 for an 847-square-foot apartment, which is 605$ above the U.S. average. When compared to the nearest large city, the average Anaheim monthly rent price is $474 less expensive than in Los Angeles, CA.
One of the most popular and top-rated apartment complexes in Anaheim is the Stadium House Apartments. This luxury pet-friendly community boasts beautiful rooftop views and offers residents amenities such as a pickleball court, clubhouse, pool and spa, fitness center, and more!
The most affordable neighborhoods to rent an apartment in Anaheim are Northwest Anaheim, West Anaheim, and Anaheim Resort. On the flip side, the most expensive rent in the city is found in Platinum Triangle, The Colony, and Anaheim Hills.
With the zip code of 92801 and without exceeding 30% of your income on housing, here's what you should be making to afford rent in Anaheim:
Hourly Wage For A Two-Bedroom: $40.38
Hourly Wage For A One-Bedroom: $33.08
Median Household Income: $81,806
Average Salary & Household Income in Anaheim
The average salary in Anaheim is $77,000 per year or $20.52 per hour. Here are a few jobs in Anaheim and their average hourly rate:
Medical Assistant: $17
Administrative Assistant: $18
Office Manager: $25
Registered Nurse: $45
Customer Service Representative: $19
According to the U.S. Bureau Labor of Statistics, here are the most popular industries for occupations in Anaheim and their median hourly wages:
Management: $60,84
Business and Financial Operations: $37.89
Educational Instruction and Library: $30.75
Healthcare Practitioners and Technical: $49.66
These are all above the California median wage of $23.91.
Income, Sales & Property Taxes in Anaheim
The state of California has much to offer – beautiful weather, peaceful coastlines, world-famous attractions, a booming economy, endless outdoor recreational opportunities, and much more. These phenomenal qualities make the income taxes here well worth it.
The income tax in Anaheim is 9.3%. Anaheim's sales tax rate is 7.75%. This consists of the sales tax rates for the state, county, and city.
Sales Tax For California State: 6%
Sales Tax For Anaheim: 0.25%
California ranks #48 out of the 50 states in the U.S. based on the State Business Tax Climate Index. This indicates that California has the 4th highest taxes in the nation, following the District of Columbia, New York, and New Jersey.
When it comes to real property, the property tax rates are amounts per $100 of assessed value. The Orange County and Anaheim property tax rate is 1.0999, whereas the assessment rate is 1.15%. Your school district, library, and the city of Anaheim are political subdivisions that make up these taxes. On average, Anaheim and the rest of Orange County have one of the highest property tax rates compared to other counties in California.
Anaheim collects about .56% of a property's assessed fair market value as property tax. Your Anaheim property tax is calculated by taking the tax rate for the area where the property is located and multiplying that by the property's taxable value. For example, if your home's taxable value is $250,000, you multiply this by the assessment rate (1.15%), which leaves your estimated bill of $2,875.
Anaheim vs Los Angeles Cost of Living
| | | |
| --- | --- | --- |
| | Anaheim | Los Angeles, CA |
| Median sale price | $802,500 | $980,000 |
| Average rent | $2,307 | $2,781 |
| Price-to-rent ratio | 33.32% | 33.23% |
| Average salary | $77,000 | $83,000 |
| Property Tax (assessed at true value) | 1.15% | .82% |
As far as buying or renting property goes, the cost of living in Anaheim is slightly lower than in Los Angeles. However, both cities even out in a way due to the average salary in Anaheim is lower than in Los Angeles.
Thinking about moving to Anaheim, California? Despite being one of the largest cities in California, Anaheim offers several affordable areas within its city lines! For a quick and smooth transfer to your new home, get in touch with Anaheim movers at 714-538-2831!